This will be my second flow through bin made from a 55 gallon plastic barrel. 
Background:

The first bin I made has been going for close to 3 years now and can process in excess of 10-15lbs of food and bedding weekly.  It was constructed from a 55 gallon plastic barrel with the bottom grate made from steel electric fencing posts. On top of the posts I placed a old cooking rack which was attached to 2 cables which I had planned to used to shred the vermicompost off of the bottom of the bin.  I found that this did not work and the weight of the vermicompost made it very hard to use.  Through the middle was a perforated 1 1/2 diameter ABS pipe which was also vented through the top.  A hole cut in the bottom to collect finished vermicompost and a lid in the top for feeding ect.  Here is a couple of picture of the current bin in action: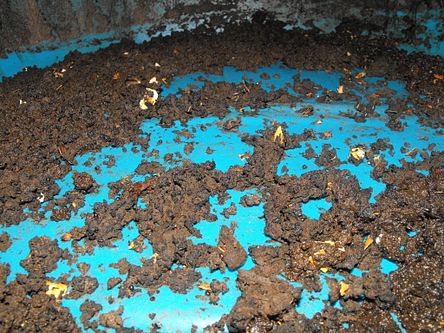 New Bin:
The new bin will be quite similar, a few changes to hopefully help with some of the issues I have had.  Firstly there is a second horizontal pipe added lower in bin to hopefully increase air flow and ventilation deeper in the bin.  This time the grate at the bottom will be made of plastic water line - After completing construction of the grate I do not feel that this was the best choice of material for the grate, it is quite flexible and I am not sure how strong it will be... time will tell i hope that it does not collapse under the weight of the vermicompost. I also did not put any sort of grate to "shred" the vermicompost off the bottom, I found that the one on my old bin was very hard to use and was not worth worrying about.  Other than that it is essentially the same bin.  Some pictures of the completed bin: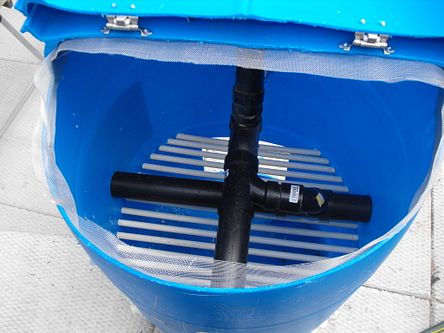 Initial Setup:
So to start this bin I added 5-6 layers of newspaper on the bottom, followed by a layer of dry cardboard that I ripped up.  On top of that I layered a couple inches of cardboard pieces which were soaked in water.  After that I placed close to 7lbs of vermicompost which was harvested from the other bin,  this amounted to maybe 1 1/2 inches throughout.  When adding the bed run to the bin I quickly sifted through and counted the worms and there was approximately 150 which I counted, so there was likely 200 or more plus an abundance of cocoons.  When I initially started 4 years ago I bought 1/2 lb of worms in a RM bin and moved them into the 55 gallon drum after a couple months.  It took a very long time to have a noticeable increase in population.  I hope this approach increases the population faster even though I maybe starting with less worms initially.  On top of the bed run I scattered 1/2lb of food which was mostly watermelon pieces and cucumber pieces.  I finished with a couple inches of soaked cardboard then covered with some whole newspaper.  Sorry forgot to click some pics throughout the process, but here is the finished product:

Future Plans: 
I do not plan on adding any significant amount of worms other than ones which come from the finished castings in the mature bin. 

I may add a small solar powered computer sized fan, which I am in the process of building, to the end of the pipes through the bin for increased ventilation. 

Updates to follow.